Bristol City Circular Prayer Walk & Fundraiser
Dear Supporter
You are invited to take part in a circular walk starting at Cairns Road Baptist Church connecting with churches in the south and east of the city. The full walk will be approximately 10 miles and is broken into 3 stages. You can do the full walk or a specific stage. At the different church staging points, we will be praying for the local communities and their particular needs.
As we w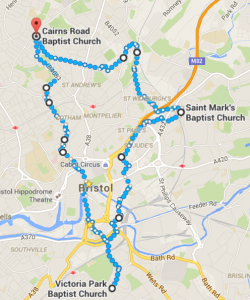 alk around the city there will be a few brief talks on some of the interesting historical areas we walk through.
We are also aiming to raise some funds for Bulgarian Partners Trust;- walkers will be encouraged to raise funds or make a donation of £10 towards equipment for the "soup kitchen" in the new social, medical and training centre in Sofia – target £1,000.
You can donate to the walk here »
When:  Saturday 21st May
11.30am to 4pm
 Route: https://goo.gl/maps/vZsMqdRy1wm
 Walk itinerary:
Start Point:
Meet at 11.20am at Cairns Road BC, Westbury Park, Bristol BS6 7TH
for:
11.30am start – Cairns Road BC
12.50pm – Victoria Park Baptist Church, Victoria Park – 3.8 miles (1hr 20 mins)
2.30pm – St Marks Church, Easton – 3 miles (1hr)
4pm – Cairns Road – 3 miles (1hr)
Total mileage: 9.8 miles
Duration: 3 hrs and 20mins approx.
Tea and refreshments will be provided at Victoria Baptist and Cairns Road Baptist Churches.
Transport options for those who only want to do part of the walk available.
If you would like more information please contact:
James Caldwell (Trustee) at

 otherwise look forward to seeing you at 11.20am on Saturday 21st May.