As is so often the situation around the world, those most affected by poverty are children. Bulgaria has the one of the highest proportions of institutionalised children in the world with over 25,000 living in orphanages and homes of some kind.
The BBC documentary Bulgaria's Abandoned Children was aired in the autumn of 2007 and highlighted the plight of many of Bulgaria's 'orphans'. You can watch it here >>
Did you know…?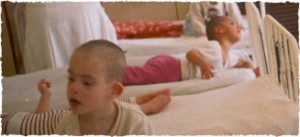 In Bulgaria, 1 child in 50 grows up in an institution. 
Only 5% of Bulgarian 'orphans' are eligible for adoption.
10,000 children a year fall victim to trafficking and prostitution.
15% of children live in jobless families, and each year 20,000 children drop out of school – one fifth of them to start work.