Progress on the centre has been quite remarkable, due to the generosity of Christians worldwide, and to date funds have become available to keep up with the rate of building progress.
No loans have been needed and work has never been halted by a lack of funds.
A Timeline
2002 (March) Land obtained, paid in full.
2003 (November) Architects plans approved
2004 (September) Work starts!
2005 (November)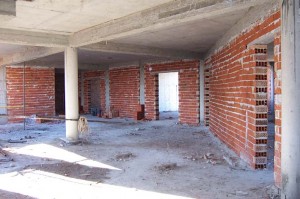 Taking shape
2006 (June) Main Structure completed
2007 (October) Main façade, floors completed. Electrical system installed.
2008 (March) contract for heating, water, air-conditioning, sewerage let. Ground floor façade worked on.
2009 Plastering – lots of it!
Plastering the Centre main entrance – June 2009
2010 – More plastering!
2011 – Ceilings and tiling
2012 – Interior taking shape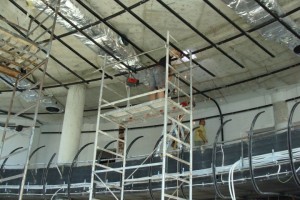 Auditorium Roof – Sept 2012
2013 –
2014 – Getting closer to completion