The Bulgarian Partners Trust is all about supporting work that is already being done. We can help the Church in Sofia by:
praying for them
raising money for them
telling more people about what they are doing

Fundraising Events
We would love to help you raise awareness about the situation in Bulgaria as well as to fundraise. We have a number of resources which are available free of charge to help you host a fundraising event.
Leaflets and donations form
Jump for Bulgaria!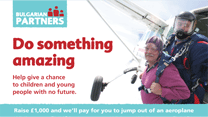 Raise £1000 and we will pay for your jump!
Get involved as a church
Bulgarian Partners main income has always come from individuals and churches. It is vital that churches in the developed world work to empower those churches who work with those most in need, and under persecution.