Bulgarian Partners is all about supporting those who are working to fight poverty in Bulgaria.
The church in Sofia has a huge vision and passion to help those in need in their community and beyond, but with our help they can do even more.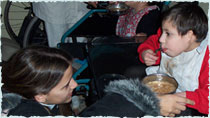 Bulgarian Partners is supported in many ways by people from all walks of life – from individuals to churches to corporate organisations. Each are invaluable to the work that is being done.
We need you!
We can help the Church in Sofia by:
praying for them
raising money for them – find out how to donate here
telling more people about what they are doing