2013 was an action-packed year for Bulgarian Partners Trust – here are just a few of the fundraising events and activities that took place this year…
Fundraising Roundup 2013
The Bulgarian Partners Trust was registered in 2003 so we have now supported the construction of the new Social, Medical, and Training Centre and Feeding Station in Sofia for a decade. The (revised) overall capital cost was budgeted at £1.6million, and on our tenth anniversary at the start of 2013 we needed £95,000 and ended it needing just £37,000. How was this raised?
In February we held a Charity Concert in the wonderfully historic Clevedon Court near Bristol at the kind invitation of Julia Elton DL whose family has occupied the house for over three hundred years. Julia lit the log fire and candles in the Great Hall, Tedi Oprenov's daughter Ami and her colleagues in Leto String Quartet played classical pieces including some from Bulgaria, and our friends Raimondo, Pino, and their wives provided a delicious three-course gourmet buffet. Long-term supporters Richard Pendlebury DL and businessman Paul Taylor made an appeal, and guests donated an amazing £13,000 plus gift aid tax!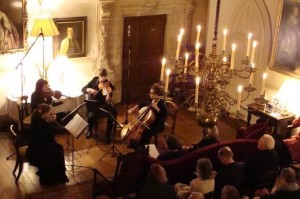 In June fifteen 7-14 year old children from Sofia Baptist Church's Sunday School did a fundraising climb to the top of 2290 m high Vitosha Mountain. This was a considerable challenge for some of the younger ones, but they insisted they would reach the top together, and did, raising about £1,150 pounds. Well done gang!
In July we started planning for the Great Bristol to Bulgaria Cycle ride by our faithful supporters Dr. Mark Corcoran a Bristol GP and surveyor Richard Taylor, both keen cyclists. Hon. Sec. Geoff Wallis drove an old Fiat Ducato camper van which acted as a mobile 'hotel'. Early fund-raising events included a barbecue where ice-creams were sold from the van's side window, a bicycle repair workshop, and a professionally-hosted wine-tasting evening. The ride raised over £40,000 in total – read more about their adventure here >>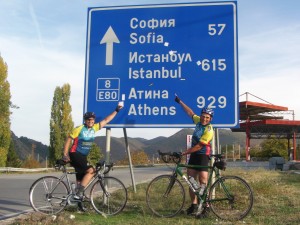 Progress on the Social, Medical & Training Centre
Young architects Liudmil & Diana moved to France early in the year but continued involvement by e-mail. The project also lost another faithful supporter when former Roma builder and site-supervisor Emanuel Yolov died. Our condolences go to Maria and the family.
Progress on finishing the buildings over the last year has been steady with a focus on quality and value for money. The top two floors (5 and 6) have been repainted after an earthquake caused small cracks in some walls. The two staircases are complete and the finishing work in the main auditorium of the conference centre/church is progressing well. The heating system is being up-graded to provide greater flexibility at less running cost in the future. The electrical installation, heating, tiling, doorways and carpets at all levels are still to be completed by a combination of volunteers, contractors and craftspeople directly employed by Sofia Baptist Church.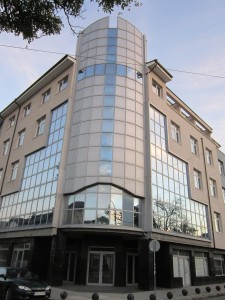 When construction is completed everything will be inspected by a municipal committee and, hopefully, signed off for occupation, a bureaucratic and uncertain process that should be completed by the final quarter of 2014.
Sofia Baptist Church's 125 Anniversary
On 8th December members of Sofia Baptist Church held an anniversary celebration in the nearly-completed auditorium, It was a time of great thankfulness looking back, and excitement looking forward!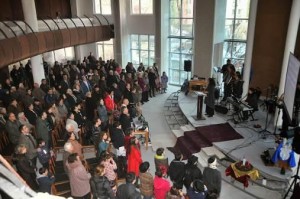 Geoff Wallis, February 2014