Ivan grew up in the orphanage at Roman, north Bulgaria, but like all residents had to leave at 17. He moved to Sofia and was fortunate to get a job as a kitchen assistant, but was soon made redundant, so risked becoming homeless.  Volunteers from the Good Samaritan Foundation had kept in touch with him since his orphanage days, and found him a job on the new Centre.
Currently he is washing 15,000 small floor-tiles prior to them being laid in the children's hall. He's paid a small salary and is happy, although he admits he'd rather be cooking!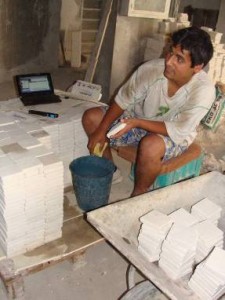 Ivan who grew up in an orphanage works in the Centre
Klavdia is a bright girl who grew up in Berkovitsa Orphanage, where she worked hard at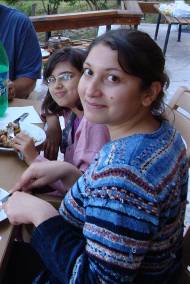 school and achieved an 'A' level.  She wants to train as a nurse, and has applied for courses, but doesn't have the presentational skills for interview. She is now having coaching and extra biology lessons, paid for by Norwegian benefactors who want to see her  succeed. The Centre is needed to help more people like Klavdia.
Have you ever tried to put up tiles in your bathroom? If so, you will know that they are perverse things, and it is not easy to do a good job.
Tenio Kolev has been tiling the showers, toilets, and floors of the Centre since September last year. He has installed about 800 m2 so far, thousands of tiles…. and he is only half way through!   He is paid per square meter so it is in his interest to work fast, and sometimes his wife Ralitsa comes in to help him. He puts in long hours, six days per week, yet the quality of all his work is perfect!  As a skilled craftsman he could earn more elsewhere, but wants to work on the Centre. Why I wondered? I wanted to meet this guy.
I discovered him hidden on the third floor, squatting in what at first hand looked like a large cupboard, but on closer inspection proved to be a shower-room. I congratulated him on his exceptional workmanship, and asked him what motivated him.  He said that he was not motivated by money alone, but by the satisfaction of producing the best quality work he can, because 'as a Christian I am doing this for God as well as for my employer'.  He was clearly passionate about his work, and the Centre.
Security guards on Bulgarian building sites tend to be large, idle mafia types prone, like their dogs, to barking or biting first and asking questions later. One of the Centre's two night-watchmen Petur couldn't be more different.  He is a mild approachable man, passionate about the Project, who sweeps up, helps the craftsmen however he can, and generally makes himself useful 11 hours per day, 3 days per week. His aim is to make the Centre an inclusive, welcoming place even before its finished.
Dr Alexander Buchkov is a doctor who served in Bulgaria's Medical Military Academy, now a clinical research associate for a leading drug company.  His ambition is to return to general practise and run a clinic at the new Centre for people in financial need, especially those without medical insurance.
He says, 'I want to serve where the real needs are, and the new Social Medical and Training Centre will do just that.'
Luidmil and Diana are recently-qualified architects passionate about the Project.  They have devoted many hours to designing the interiors, fittings, décor, etc, and even spent three days of their holiday in Italy touring quarries to check out suppliers.  They have obtained special-price deals on stone floor-slabs from China, pebbly-marble from Brazil for the staircases, and 'Flexi-floor' concrete panels for the auditorium flooring, saving many hundreds of euro.
By explaining the Project's aims to the Knauf salesman they received 30% off catalogue prices for 'dry flooring panels', and the salesman said he's impressed and wants to attend the Centre's opening!
Luidmil and Diana have moved their offices into the unfinished building and diligently oversee every aspect of the construction work.  They make no charge for their services.
Diana developed an original way of showing the Roma plastering team which walls should NOT be plastered, pending later tiling. Paid on piece-work, they wanted to plaster everything!
When several tonnes of heavy floor slabs were delivered recently they had to be moved to the first floor for installation. An appeal at Sofia Baptist Church resulted in 20 men turning up the next Saturday, and completing the move in two hours at no cost !
Teddi and several tonnes of floor slabs – July 2011
The first room in the Feeding Centre is now finished, except for installation of electrical and plumbing fittings.
Meanwhile, the number of children in the weekly Literacy Classes has increased to over 20.
Teacher Plami is taking maternity leave, replaced by Stephi, a theologically trained professional social-worker, assisted by Dafinka, a trained and experienced teacher. Together they have devised development-plans for each child, five of whom have now returned to regular school, having previously dropped out.
I found enthusiasm and a great sense of purpose amongst everyone involved in the Project, and a growing sense of excitement about expansion of the humanitarian work when the Centre is finished. Construction is progressing fast, and there is a possibility that the building could be in use by the end of 2012, funds permitting.
Geoff Wallis, July 2011